I am a two-time Cicero Speechwriting Award Winner and I can write you a speech with humanity, passion and impact.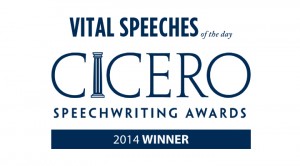 Reach me at
Phone: (+45) 2856 0708
e-mail: rune(at)runekier.dk
Twitter: @RuneKier
If you are interested, I have an updated CV on my LinkedIn profil for you to download and read at your convienience. Bon appétit!
In 2014 I won two Cicero Speechwriting Awards as the first Dane ever for 'Climate Change and the Story of Sarah' – in categories Government and Environment/Energy/Sustainability. I have worked in areas of immigration and diversity, social affairs and employment as well as foreign affairs and international development/aid.
So far speeches written by me have been featured in the journal Vital Speeches International 5 times. I have written for several Danish government ministers, Copenhagen Mayors and MPs as well as business CEOs and NGO activists.
I take my profession seriously. I am a member of European Speechwriters Network and the Global Professional Speechwriters Association.
Don't take my word for it!
Take your time to look at my resumé and read some samples of my speeches or recommendations I have gotten from others before you take a look at what I offer.