Now here is a blog post I never thought I should write…
I just won two Cicero Speechwriting Awards 2014 in the categories Government and Environment/Energy/Sustainability… just: wow…
I am the first Danish speechwriter ever to win any.
Climate Change and the Story of Sarah
I wrote the speech Climate Change and the Story of Sarah for former Danish Minister for Climate, Energy and Building (now Foreign Affairs), Martin Lidegaard. The speech is written for an international conference on reproductive health May 23, 2013 in Copenhagen. That means that the audience consists of doctors and medical scientists. It also means that the Ministry does not have an office or a department expert who knows about reproductive health. It is not our normal area of expertice. That is why I was given rather free hand to structure an argument according to the ministers wishes. And to use numbers and stats from WHO and UNFCCC. They are the sources for the numbers in the speech.
Martin Lidegaard  wanted a speech that was not what the audience expected. Every medical person has heard the argument that population growth is a threat to our planets ressources. That was not what the Minister wanted to say, he wanted to make the case for doctors to do their job AND combat climate change, not either/or. He wanted to bring it right back to earth sort to say.
In the speech Martin Lidegaard speaks about climate change and ends like this:
"We see the symptoms every day, we know the cure by heart and we have the medicin at hand. As doctors you are everywhere and people listen when you speak. People respect what you say and sometimes they even do what you tell them to. I urge you. Let us battle climate change together. Please. Ask people to cut down on fossil fuels. Let it be what the doctor ordered!"
You can read the entire text on the conferences website or see the youtube video below:

 A Cicero Speechwriting Award
For me it is very humbling to see my name among some of the best speechwriters in the world. I think it is a symbol of speechwriting gaining ground in a world that is less personal and more fragmented. Speechwriting done right can show authenticity and leadership in a world wary of mass communication without a face. Martin Lidegaard had the courage to tell a story that made the climate crisis both personal and physical. I want to thank him for that.
I have also got the assessments from two of the judges and wanted to share them. Getting a Cicero Speechwriting Award is no doubt the highlight of my career (so far, I wonder), but their words made me jump up and down in our apartment kitchen fearing to wake up my daughter.
The Judges and why it won
With their explicit permission, here is what the judges wrote:
Editor of Vital Speeches of the Day and coordinator of the Cicero Speechwriting Awards, David Murray, says:
"Rune Kier Nielsen is an imaginative writer who understands how to make abstract issues real for an audience. In his Cicero-winning speech 'Climate Change and the Story of Sarah', Nielsen helps us understand a global phenomenon by describing the many ways in which it affects one woman of his own invention. By understanding the plight of Sarah, we understand the plight of all humanity—and we see the chance to change Sarah's destiny, and our own. That's what public policy speechwriting is supposed to do, and Rune Kier Nielsen knows how to do it."
Cicero Speechwriting Award judge, former speechwriter for Al Gore and Bill Clinton and founder of West Wing Writers in Washington, DC,  Tom Rosshirt, says:
"This is a striking speech. I went back and re-read parts. I wanted to know more. A great speech will either have you saying:  "Gee, I never knew that" or "Gee, I never thought of it that way."  This does both.  He startled me with statistics about the public health effects of climate change, and then blew my mind by saying – "140,000 people already die from global warming every year." Wow. I've been listening to climate change arguments since I first wrote a speech on the topic for Al Gore in 1997. This is the first time I've heard it put this way – and it is arresting. I wish the speech would have connected certain points more precisely – explaining the scientific link between the advance of climate change and the spread of malaria.  But even without that, it was a startling speech, and deserves the award."
Just WOW… I wonder when my arm are actually getting down to get some work done…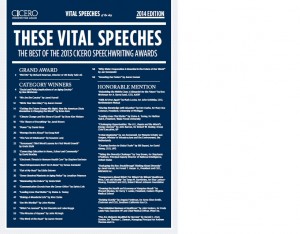 If you liked reading this post, you might also like reading the follow up. Here I go into more depth about the writing and I show the life it gained after the award. It is called Climate, Sarah and the Story of a Cicero Award.