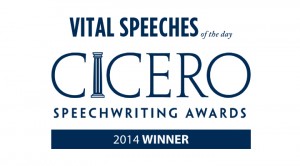 As an executive speechwriter I had the honour of winning two Cicero Speechwriting Awards 2014 for my speech 'Climate Change and the Story of Sarah'. 
I have had 5 speeches published in Vital Speeches International and I have written for government ministers, corporate CEO's, MPs and activists.
Here are some of recommendations that made their way back to me.
References on my Cicero  Award speech
David Murray – Editor of Vital Speeches of the Day and coordinator of the Cicero Speechwriting Awards
Rune Kier Nielsen is an imaginative writer who understands how to make abstract issues real for an audience. In his Cicero-winning speech 'Climate Change and the Story of Sarah', Nielsen helps us understand a global phenomenon by describing the many ways in which it affects one woman of his own invention. By understanding the plight of Sarah, we understand the plight of all humanity—and we see the chance to change Sarah's destiny, and our own. That's what public policy speechwriting is supposed to do, and Rune Kier Nielsen knows how to do it.
Tom Rosshirt – former speechwriter for Al Gore and Bill Clinton and founder of West Wing Writers in Washington, DC and Cicero Speechwriting Award judge.
This is a striking speech. I went back and re-read parts. I wanted to know more. A great speech will either have you saying: "Gee, I never knew that" or "Gee, I never thought of it that way." This does both. He startled me with statistics about the public health effects of climate change, and then blew my mind by saying – "140,000 people already die from global warming every year." Wow. I've been listening to climate change arguments since I first wrote a speech on the topic for Al Gore in 1997. This is the first time I've heard it put this way – and it is arresting. I wish the speech would have connected certain points more precisely – explaining the scientific link between the advance of climate change and the spread of malaria. But even without that, it was a startling speech, and deserves the award.
References about my speechwriting generally
Brent Kerrigan – Owner, Global Speechwriter
Speechwriting is a unique profession requiring a unique ability to weave style, structure and storyline into something that will get an audience to not only listen, but take action. Read any of Rune's speeches and it quickly becomes apparent he's mastered the art of shaping words that resonate. His stories are illuminating, his facts are poignant and his writing style is meant for the ear. I recommend him to any high-level organization looking for a speechwriting expert.
David Murray – Director of Professional Speechwriters Association and Editor at Vital Speeches of the Day
Rune Kier is a rising star in the world of speechwriting. He thinks broadly and well, so that every speech he writes fits into a strategic framework. And the speeches he writes burst with energy, originality and persuasiveness. In short, Rune knows what he's doing, and he does it enthusiastically and with style. That's why I've published his speeches—and why I hope to publish more of them in the future.
Kirsen Brosbøl – former Danish Minister for the Environment
One of the better decisions I made as a minister for the environment in 2014-2015 was to bring Rune Kier Nielsen in as my speechwriter. He fully lived up to my expectations to add more professionalism into the speechwriting of the ministry. He brought onboard strong communication and rhetorical skills and not least the passion for telling the good and engaging story. Rune also contributed to streamlining the ministry's process of speechwriting bringing more focus on the structure and rhetorical quality of the speech and not just the technical content. Furthermore, Rune is a very pleasant person to work with. I give him my warmest recommendations.
Loa Brix – Director of Communication at Danish Ministry for Energy, Supply and Climate
Rune is a dedicated and very skilled speechwriter. He matches audience, message and rhetoric in very well-composed and relevant speeches. I can only give Rune my best recommendations.
Iben de Neergaard – Program Director at DIS – Danish Institute for Study Abroad
I met Rune very early on in his career and have had the pleasure of working with him for longer or shorter projects both while in the Danish Refugee Council and at the Think Tank Cevea.

Rune has the drive to bring any project to a high. He is strong in political analysis, intercultural communication and international relations. His rhetoric and understanding of both the written and the spoken word is outstanding. Further, Rune is a strong networker, guiding you on if the task does not fit his time or qualifications. I am confident that whatever the assignment or challenge, Rune will be able to bring new knowledge, new ideas or simply do an imminent job.
Asbjørn Haugstrup – Special Advisor to the Danish Minister for Foreign Affairs
Very glad to recommend Rune as a great speechwriter!
Jan Sonneveld – Speechwriter at Ministry of Infrastructure and the Environment
Rune Kier is a passionate speechwriter, who clearly knows the value of persuasion, stories and leadership. He is an enthusing advocate for social change and for fighting climate change.
Irena Guidikova – Head of Division at Council of Europe
I have worked with Rune in relation the integration/inclusion policies of the city of Copenhagen. He always impressed me as a reflective, thorough analyst of the social reality and someone able to formulate complex challenges in simple, striking, memorable words. Excellent communicators and a very reliable partner.
Human Shojaee – CEO at Venture Cup
Rune Kier is a visionary communicator and an expert of managing Private – Public Partnerships campaigns through Internet and social media. It is difficult not to feel engaged with the project when working with Rune.

Runes great positive thinking and humour makes it not only innovative, but as the same time fun to work with. Rune is an extremely talented writer, so do leave the speeches to Rune if you are looking for the best result.
Henrik Meng – Giving people and teams a Licence to THRILL
Rune is an original in the very best sense of the term: Besides being extremely bright and skilled, he´s a master of bringing insight and enthusiasm to the process of task given, and also an eloquent juggler of language and perspectives. Did I mention that Rune is also a pleasant and fun person to be around? He is an asset to any group, lucky enough to have him around!
References in Danish
Kell Jarner Rasmussen – Adm. direktør at Rhetor – rådgivende retorikere
Rune Kier er en dybt passioneret og meget dygtig taleskriver som vi har haft fornøjelsen af at samarbejde med flere gange i Rhetor. Rune er antropolog, hvilket former hans arbejde med taler: Det handler ikke bare om ord, men om mennesker. Det oplevede jeg fx da han på Rhetors taleskriverkonference i 2012 leverede et brag af et oplæg om at omfortælle historien, fx en befolkningsgruppes eller en organisations historie, i taler. Rune har flere gange hejst flaget for dansk taleskrivning ved at få taler publiceret i det internationale tidsskrift Vital Speeches of the Day, og jeg opfatter ham som en vigtig samarbejdspartner i det projekt at gøre talen til en seriøs ledelsesdisciplin i danske kommuner, ministerier og organisationer.
Jon Kiellberg – Debatredaktør og politisk analytiker for avisen Kommunen
Rune Kier Nielsen har en rigtig god analytisk sans og en skarp ben. Han formår at sætte taleskrivning på dagsorden og vigtigheden af disicplinen. Han har skrevet flere glimrende analyser og artikler til kommunikationsmagasinet Kommunikatøren, da jeg var redaktør. Han er en af dem i landet, som har den bedste forståelse for taleskrivning og dets virkemidler.
Trine Nebel - Erfaren underviser i omdømme, troværdig kommunikation, taler og praktisk retorik
Jeg kender Rune via en fælles passion for taler, der bragte os til Washington D.C. i marts 2013, hvor vi på den internationale taleskriverkonference holdt et oplæg om at bruge sociale medier som en integreret del af taleskrivningen. Samarbejdet strakte sig over 6 måneder, og var en på alle måder god oplevelse!

Rune udmærker sig ved at være en rigtig god kollega, belæst og klog, men altid lydhør og åben for nye input og vinkler (men aldrig sladder. Det interesserer ikke Rune).

De taler Rune skriver for andre, er værd både at høre og læse, og bliver da også med jævne mellemrum bragt i diverse tidsskrifter som fx Vital Speeches of the Day. Runes spidskompetence er politiske taler, hvor min er lejlighedstaler. De to meget nært beslægtede talegenrer har vi haft meget stort udbytte af at nørde sammen, og der deles glad og gerne ud af råd, links og faglige artikler, hvis vi har noget, den anden kan få glæde af at læse. Sådan fungerer gavmilde netværksmennesker, og de hænger i deres helt rene form ikke så meget på træerne som man umiddelbart skulle tro!

Jeg medgiver Rune Kier min bedste anbefaling og kan kontaktes for flere oplysninger på http://www.trinenebel.dk/.
Torben Møller-Hansen – Direktør i Foreningen Nydansker
Rune tænker originalt og han er inspirerende og motiverende at arbejde sammen med. At København rangerer som Europas 4. mest mangfoldige storby skyldes bl.a. de nytænkende projekter og den seriøse implementering som holdet bag "bland dig i byen" præsterer. Her er Rune blandt de centrale bidragydere.